Regular price
Sale price
$79.99 USD
Unit price
per
Sale
Sold out
Share
Elevate your Jeep Wrangler's appearance and pay tribute to a pivotal moment in American history with our custom engraved fuel door, featuring a highly detailed engraving of the iconic Raising of the American Flag over Iwo Jima. Designed to seamlessly fit JK, JL, and TJ models, this fuel door is more than an accessory; it's a moving work of art that honors the bravery and sacrifice of our heroes.
Key Features:
Highly Detailed Iwo Jima Engraving: The centerpiece of this fuel door is an incredibly detailed representation of the historic Raising of the American Flag over Iwo Jima during World War II. This iconic image symbolizes the courage and unity of the American spirit and serves as a constant reminder of the sacrifices made for freedom.

Premium Quality Craftsmanship: Crafted from top-quality materials, our fuel door is a durable and reliable addition to your Jeep. It not only tells a story but also withstands the rigors of off-road adventures and daily use.

Seamless Installation: No need for complex modifications or special tools. Installing this fuel door is a straightforward process, ensuring you can proudly display this inspiring design with ease.

Universal Compatibility: Whether you own a JK, JL, or TJ model, this fuel door is designed to fit them all. This ensures that you can enhance the look of your Jeep, regardless of its generation.

Honoring Heroes: Showcase your respect for the men and women who have bravely served and sacrificed for our nation. This fuel door is a visible tribute to their heroism and an expression of your gratitude.

Inspire Patriotism: With this fuel door, your Jeep becomes a rolling tribute to the American spirit. It's a way to ignite conversations, inspire patriotism, and remind others of the enduring values that make our nation great.
Transform your Jeep Wrangler into a moving tribute to American heroism with our Custom Engraved Fuel Door featuring the iconic Raising of the American Flag over Iwo Jima. It's not just an automotive accessory; it's a piece of living history that brings the spirit of courage and unity to your everyday adventures. Order yours today and let your Jeep proudly tell the story of valor and sacrifice on every journey you take. Your Jeep, now a symbol of freedom, is sure to turn heads and inspire conversations wherever you roam.
View full details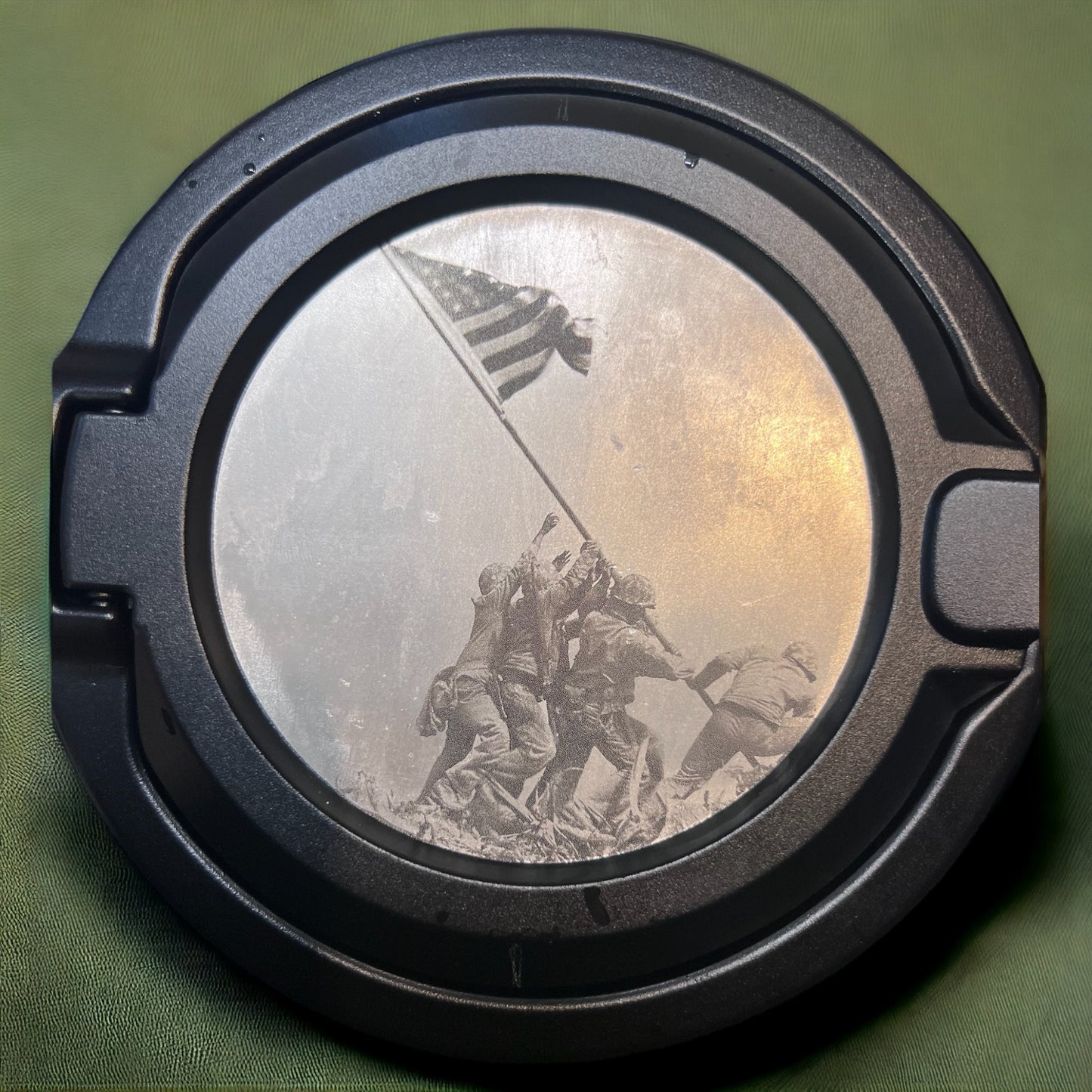 Recent Customer Fuel Doors
Frequently Asked Questions
How do I tell you what I want?

You can fill out the customization notes in your cart or you can email jennifer@engrave-danger.com with specifics
Can I use a licensed image?

Please only submit images which you are allowed to use. Licensed images will be denied. Please don't get us sued!
How long will it take to get my product?

Typically products ship within a week of your order. Larger orders might require more lead time. If you need a rush order, please contact jennifer@engrave-danger.com prior to ordering.